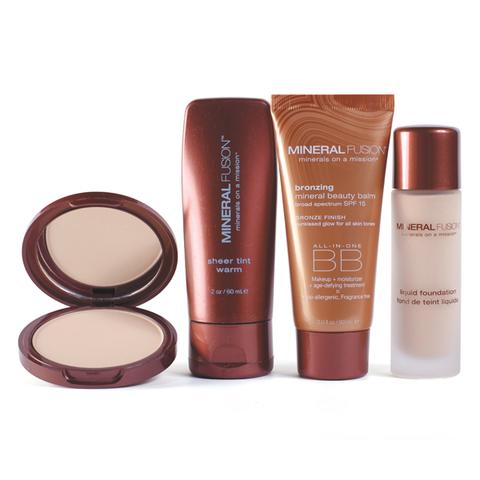 Foundation Basics
Foundation is an extension of your skin care routine. It is important to use a foundation that works with your skin type and tone, has skin-healthy ingredients, and, most importantly, makes your skin look flawless. Our mineral foundations do all of that! From sheer Be5uty Balms to full-coverage Liquid Foundations, we've got every skin type covered.
Read on to find the perfect foundation for you! 1. Liquid Foundation. Full coverage for all skin types.
Our brand new, full-coverage liquid foundation wears like silk. This luxurious formula provides a flawless, natural-looking matte finish in a lightweight formula that won't feel heavy or greasy on the skin. Formulated with powerful age-defying ingredients like a skin-firming peptide, collagen-boosting Rosehip Oil, and antioxidant-rich Vitamin C and Pomegranate that treat your skin while you're wearing it! Layer it over one of our age-defying primers for best-results.


2. Pressed Powder Foundation. Light to full, buildable coverage for all skin types.
Effortlessly even skin tone with our pressed powder made with super-silky, triple milled minerals that are  easy to blend so you our skin will look naturally flawless. Our mineral pigments are paired with skin-soothing botanicals and age-defying antioxidants to make your skin look radiant. This formula wears beautifully on all complexions and works for all skin types.
3. Sheer Tint Foundation. Sheer, dewy coverage for all skin types.
Enjoy a dewy glow when wearing this sheer, hydrating formula. Simply blend with your fingertips for instant coverage that gives a subtle glisten to the skin. Ideal for all skin types, but those with dry skin will love the rich hydration. Can be layered over one of our age-defying primers or underneath Pressed Powder.
4. Beauty Balm. Sheer, skin-perfecting coverage for all skin types.
This is a multi-tasking powerhouse! An all-in-one makeup + moisturizer + age-defying treatment + sun protection. This skin-perfecting sheer finish is available in three shades: Perfecting, Illuminating, and Bronzing.
 click here to learn more about finding the right foundation shade for you!