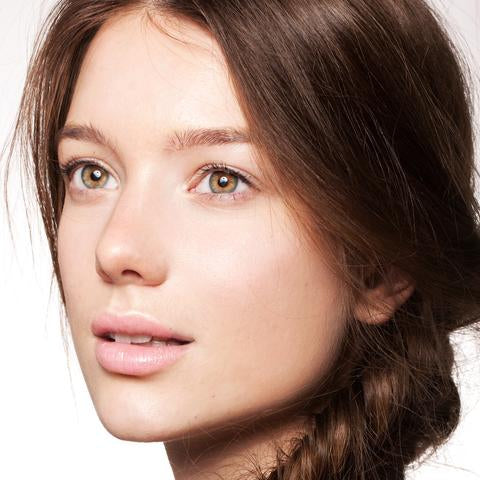 Dewy makeup is a great everyday look for warmer months when it's hard to keep matte makeup looking fresh. Your skin will look effortlessly radiant with a soft, sun-kissed warmth and subtle illumination. At nighttime, dress up dewy makeup with a smoky eye or dark lip.


Step 1.
Apply Mineral Fusion
Sheer Tint Foundation
to a clean, moisturized face. Using your fingertips, blend product in a circular motion to entire face for a dewy, luminous complexion.
Step 2. Lightly brush Sparkle or Luster Bronzer onto your cheekbones, the bridge of your nose, and chin. The bronzer will add a touch of shimmer and sun-kissed warmth to your face to enhance the dewy look.
Step 3. Very lightly swirl our Blush Brush over all four colors of Radiance Illuminating Powder, tap of excess and dust onto the top of your cheekbones for a hint of illumination. (Remember, a little Radiance goes a long way so start with a small amount of product and build until you achieve desired effect!)
Step 4. Using the Eye Contour Brush, dab a little of the white shade from Radiance Illuminating Powder along your brow bone, just underneath your eyebrow, and to the inner corners of the eye. This will instantly open up your eyes and make them pop!