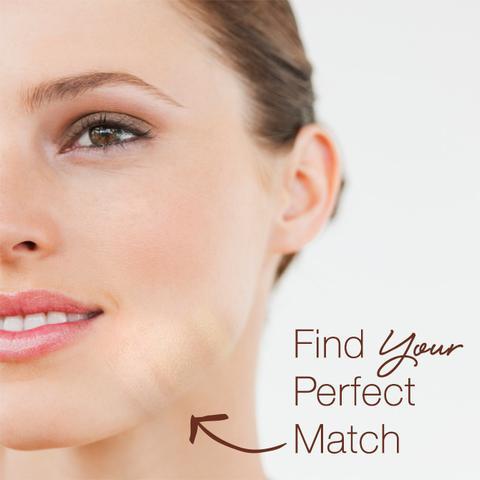 Finding the best foundation match is easy if you know how.
Mineral Fusion foundations come in a variety of shades for all skin tones, and 4 different formulas and finishes.
Step 1 - Determine your undertone

Skin undertones can be thought of as a color cast – the color that your skin appears just below the surface. Being able to determine your undertone will help you make the best decisions about color selections for hair, clothing, and makeup. Mineral Fusion foundations are divided among five undertones. Use the key below to help you determine your tone.

Cool: pinkish-red complexion; very sensitive to sun Neutral: peachy hue; sensitive to sun Warm: yellow or golden tones; likely tans easily Olive: olive or greenish complexion; tends to tan easily Deep: dark brown; tans very easily

Step 2 - Choose your foundation type (coverage)

Mineral Fusion offers four types of foundation for you to choose from.

1. Beauty Balms (sheer coverage in a variety of finishes: perfecting, illuminating, and bronzing)

2. Sheer Tints (sheer, dewy coverage)

3. Pressed Powder (light to full coverage)

4. Liquid Foundation (matte full coverage)

Step 3 - Choose your shade
Once you've determined your undertone, you can test foundation colors. We recommend doing this by brushing a stripe of color along your jaw line (see photo above). If the color blends perfectly, you've got a good match! If you aren't near a mirror, testing on the underside of your forearm works well, too.