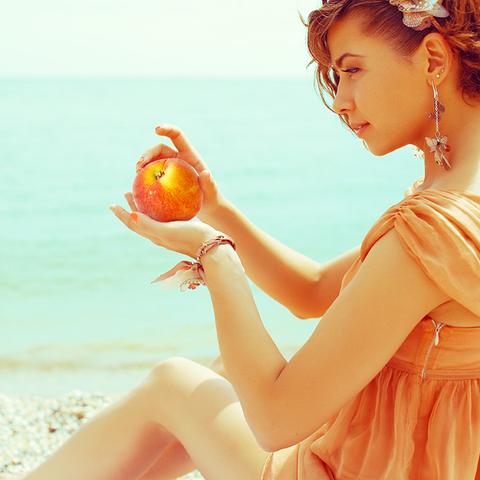 Apricot shades, including peach, tangerine, and coral look beautiful on any skin tone. They are the color of health and add a fresh warmth to the skin. These shades were once thought of as difficult to wear or out-of date but are now popping up in fun, classic, and luxurious shades. A staple for your makeup arsenal, these fresh colors create natural looks and can add accents for a more dramatic appearance. True apricot, orange, and peach tones with hints of shimmer are soft shades that brighten your complexion and bring a soft glow to your beauty routine.
For the Complexion:
1. Pale Blush is shimmery perfect-peach for any age. The shimmer helps transform your cheeks by highlighting them and making cheekbones appear fuller, while the soft color adds a healthy-looking glow.
2. Harmony Blush is more of a coral-orange shimmer. The coral undertones add a luminescent effect that emphasize your cheeks and deliver a flush of radiance.
3. 3-in-1 Color Stick in Terra Cotta creates a natural looking, sunkissed warmth to the skin with its beautiful peach tone and hints of apricot shimmer. This versatile product works like magic for dull skin by instantly adding brightness to the complexion.
For Lips:
1. Melon Lipstick is a rich, creamy lipstick in warm peachy-orange that looks amazing on all skin tones.
2. Enlighten Liquid Lip Gloss is a lush, peachy-pink color that glides on lips with a smooth, ultra-glossy finish. This warm shade is perfect for medium/darker complexions.
For Nails:
1. Sunkissed Nail Polish is a light orange with a cream finish. A soft shade is perfect for a spring/summer wedding or an everyday color –  it's fashion-forward but not too bright!
2. Citrus Cove, a tangerine with a cream finish, is a step brighter than Sunkissed and is a terrific color for summer a pedicure.