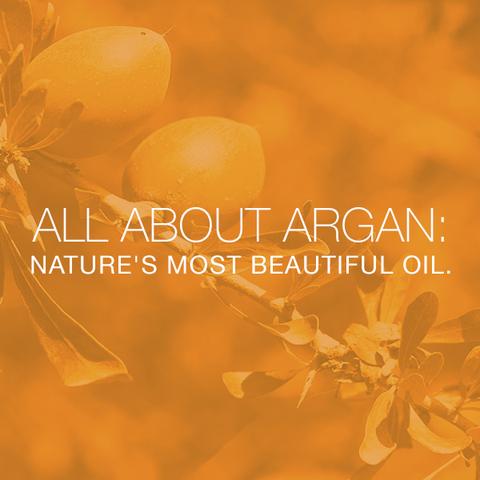 You've heard your hair stylist tout its numerous benefits, you've felt its nourishing effects on your skin: what is this magical substance? Often referred to as "liquid gold," Argan Oil is a star ingredient with its golden color and bounty of beneficial properties.
There are wide-ranging benefits of Argan Oil which makes it such a valuable and essential ingredient to include in your skin, makeup, and hair care routine:
Extremely healing. Due to its abundance of Vitamin A and Vitamin E, Argan Oil deeply nourishes skin and hair, keeping them supple while improving overall texture.
Bursting with antioxidants. These antioxidants provide protection from free-radical damage to your skin and hair. These same antioxidants also offer up powerful age-defying properties keeping skin youthful and hair strong.
High in fatty acids. Rich, fatty acids like Omega-6, (linoleic acid), saturate skin and hair with lightweight moisture. A high dosage of fatty acids helps strengthen skin cells and improve the hair cuticle without the greasy, sticky feeling that can be left by deep conditioning products.
Helps skin retain elasticity. Argan Oil's unique combination of antioxidants and nourishing properties help prevent moisture loss and retain elasticity, making skin appear softer, firmer, and more youthful!