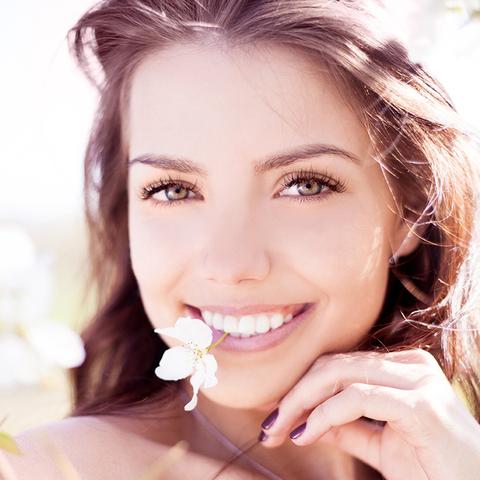 Here are 7 effortless ways to make your eyes look more refreshed and brighter.
SPF 16 Brightening Eye Cream.  Plump, hydrate, illuminate, and protect your eyes with this delicate eye cream. Collagen-boosting Rosehip Oil and our wrinkle-fighting peptide help firm and plump the eye area to minimize the appearance of fine lines while pure mineral SPF prevents future signs of aging. Formulated with light-reflecting Mica that subtly illuminates the skin around the eyes to camouflage dark circles and make eyes look more refreshed, while naturally brightening Vitamin C helps to restore even tone and more youthful-looking skin.

Concealer. Disguise under-eye circles and puffiness with our Concealer Duo. Choose a concealer that is one shade lighter than your skin tone, this will instantly lighten up the under-eye area and make it appear more refreshed. Using the Camouflage Brush, apply three dots of concealer under the eye and gently blend with your finger.


Neutral Eye Shadows. Use a light colored, matte shadow – we recommend Prism Eye Shadow Single – and lightly dust from lid to brow to cover the entire eyelid. This will give your eyelids a smooth, even toned appearance and the neutral shade will complement any eye color.


Highlight. Apply the white shade from our Radiance Illuminating Powder to the inner corner of the eye and brow bone. The white will make eyes pop, look bigger, and brighter.


Blue Eye Pencil.  Blue helps revive tired-looking eyes of any color by counteracting yellow discoloration and making the whites of the eyes appear brighter.  Using our Azure Eye Pencil, line the top and bottom lash lines as close to the lash line as possible.  Our rich, mineral eye pencils glide on smoothly to line, define, and enhance eyes while Chamomile, Meadowfoam, and Vitamin E soothe the delicate eye area.


Fill in Brows. Adding a little color to the brow will also help brighten the eye area by making eyes pop and look more awake.  We recommend applying  Rough Eye Pencil with our eyeliner/brow brush in short feathery strokes to fill in brows. Start out with a very light amount of color and build until you achieve the desired amount of color.


Mascara.  Apply Volumizing Mascara to top and bottom lashes. When applying mascara, brush slightly upward and toward to nose instead of toward the outer eye.  This gives your eyes an open, bright-eyed look!