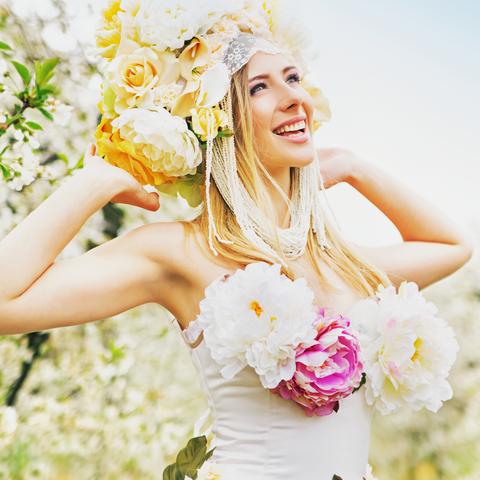 Spring makeup looks are always fun. Fresh shades to wear, new looks to try, and all done with the breeze of the new season in the air.

Try these spring makeup trends to put some spring in your step.
Trend: Minimalist Complexion
Complexion's for spring are light and feature the "no-makeup" makeup look.  Our Beauty Balms are perfect for this look with their sheer, skin-perfecting finish. Plus they're wonderful multi-tasking products: a makeup, moisturizer, age-defying treatment, and sun protection all-in-one.  Choose from Perfecting (satin) or Illuminating (subtle shimmer) finishes and apply to your entire face and neck just as you would apply a moisturizer. Blend gently with your fingertips for instantly even, radiant skin. If you need a bit of cheek color, our 3-in-1 Color Sticks are lightweight, creamy shades that give your skin a natural-looking flush of color to complement the Beauty Balm.
Trend: Eyes Galore
Spring is a great time to break out the pinks, purples, and greens.  These shades look lovely as a light accent color, or as a more bold, smoky look. Jaded Eye Shadow Trio's deep greens with hints of shimmer,  and Diversity's delightful purple palette are the perfect trios for spring! For a light, fresh look, use the lightest shade and apply from lid to eyebrow.  For more of glamorous look, apply the lightest shade over the entire eyelid, and follow by applying the darkest shade in the crease of the eye and blend well.
Trend: Bold Eyeliner
Dramatically lined eyes are popular this spring. Mineral Fusion Eye Pencil's are exceptionally rich formulas that glide on smoothly to line, define, and enhance eyes. Try stepping away from the traditional black and brown, and reach for Volcanic, ashy gray, Azure, or navy blue. Start off by lining as close to the lash line as possible. Next, create a thin line to ensure liner placement is where you would like and continue to trace over the line until you reach your desired thickness.  Try only lining the top lid with a slight wing tip for an extra wow.
Trend: Barely-there Lips
Barely there lips with a hint of color is the go-to lip this spring.  For a light, moisturizing tint, our Sheer Moisture Lip Tints are perfect. Try a caramel shade, such as Glisten, that always looks fresh on medium skin tones. If you have fair skin, opt for Shimmer, a coral/pink shimmer.  Or Twinkle, a rosy-pink, for darker skin tones.