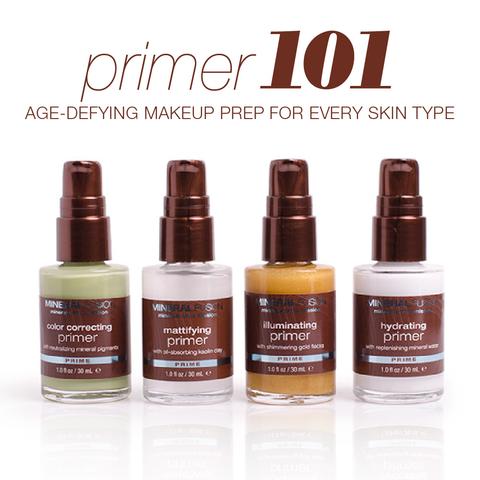 Primers play an important role in prepping your skin for makeup by smoothing the surface and texture of the skin, filling in fine lines and wrinkles, minimizing the appearance of pores, creating a canvas for flawless makeup application, and extending the wear of makeup.

We've created a line of primers that do all of that and more! Each of our primers is packed with natural antioxidants and a skin-firming peptide that help firm and treat the skin while perfecting your makeup - we call this 'age defying makeup prep.' We offer four primers that each work for a specific skin concern.
1. COLOR CORRECTING PRIMER
for redness-prone, dry/sensitive skin 
Looking to conceal redness and hyper-pigmentation?  This is the primer for you. Naturally camouflaging mineral pigments help conceal unwanted redness and hyper-pigmentation leaving skin looking even and smooth. Aloe and Chamomile help calm the skin so it looks more balanced. Plus your skin will feel great!
2. HYDRATING PRIMER for dry skin
This moisturizing formula nourishes the skin and evens tone and texture while creating a smooth canvas for makeup application. Nutrient-replenishing Mineral Water softens and hydrates skin as calming botanicals soothe and comfort.  Skin is left with a healthy-looking glow. Tip: Apply before going to bed and let this nourishing, moisture building formula soothe and hydrate skin overnight
3. MATTIFYING PRIMER for oily skin
Formulated with Kaolin Clay to reduce and control excess surface oils for a beautiful matte finish.  This soothing formula prevents makeup and dirt from settling into skin and minimizes the appearance of pores. Tip: Apply before going to bed and let this mattifying and soothing formula help control oil and soothe skin overnight.
4. ILLUMINATING PRIMER for all skin
Radiant gold flecks create an exquisite, subtle glow with the perfect hint of shimmer. This luxurious formula contains Vitamin C and Orange Fruit Oil that boost radiance, brighten skin, and naturally even tone.