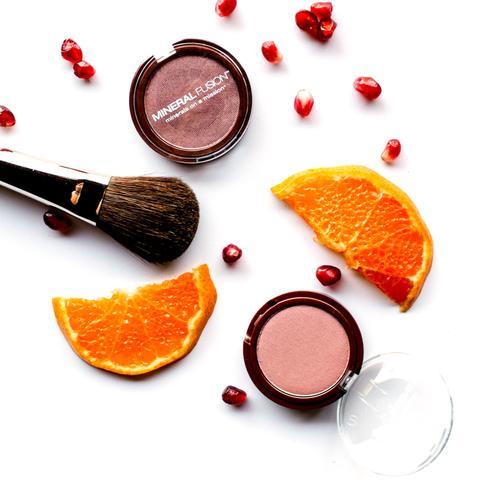 Choosing the right blush can be overwhelming.
Follow these steps to find your perfect blush and give your cheeks a natural-looking, healthy glow.
1. Cream Blush vs. Powder Blush
Powder blush and cream blush have different textures, applications, and finishes. Many women use both, but you may find you have a strong preference for one over the other.

Cream blush has a smooth, condensed texture. Cream blushes blend easily and leave a light, dewy gleam to the cheeks. They are best for people with a normal to dry skin because they tend to be more hydrating. When applying cream blush, like our 3-in-1 Color Stick, smile and locate the apples of your cheeks and apply product directly to apples of cheeks in a circular motion blending with your fingertips out towards the hair line.

Powder blush has a lighter texture than a cream blush and is easily layered allowing you to build your desired level of coverage. Powder blushes are good for normal to oily skin because they can help absorb excess oils on the skin. Our luxuriously silky, triple-milled mineral blushes offer a natural flush of color to brighten the complexion and create a healthy, youthful glow. To apply powder blush, sweep Blush Brush over the powder, tap of excess product and gently dust onto apples of cheeks upward toward hair line.

2. Matte or Shimmer Finish
Blush typically comes in two finishes: matte and shimmer.

Shimmer finishes give a hint of illumination and work well for youthful skin and skin prone to dryness.

Choose a matte finish if your skin is oily, or if wrinkles and fine lines are a concern.

3. Choose the Right Color
Selecting a blush color often depends on your preferred look. If you are unsure, here are some guidelines based on your skin tone.

Fair Skin. Go for soft, pastel pink or peach. Terra Cotta or Rosette 3-in-1 Color Sticks are perfect if you prefer a cream blush. Or try Pale powder blush - a subtle shimmering peach.

Fair to Medium Skin. Peach and shimmering pinks brighten medium to fair skin tones. Try Creation, a soft pink; Harmony, a shimmering coral powder; or Pale, a subtle, shimmering peach powder blush.

Medium to Dark Skin. Magenta and rose shades give a natural-looking flush of color to tan skin tones. We recommend Magnetic 3-in-1 Color Stick or Smashing, a matte rosy pink powder.

Dark Skin. Go for bold fiery hues. We love Flashy, a beautiful matte coral powder, or for more of a mauve/berry tone, try Airy, a shimmery mauve powder blush. If you prefer cream blush, try Berry Glow 3-in-1 Color Stick.