Put Your Best Face Forward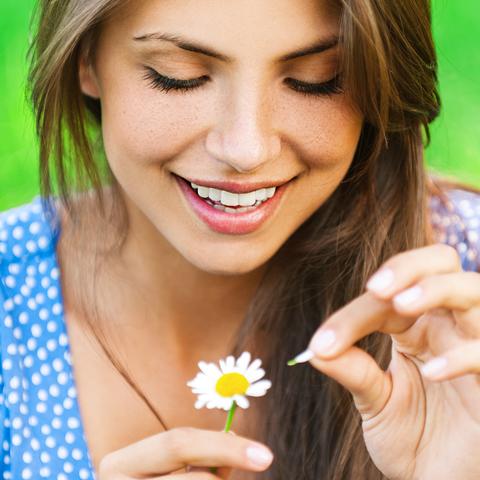 What type of skin do you have? Dry, Oily, Combination? Does your skin change from season to season?  We've put together some general skin care rules based on skin types so you can put your best face forward every day!
Dry/Sensitive Skin
You may have dull, rough skin; red or itchy skin; chapped, cracked lips; and fine lines and wrinkles may be more apparent.
General Skin Care Rules For Dry/Sensitive Skin
1. Cleanse with warm water, not hot. Hot water will strip your skin of moisture.
2. Choose products with natural fragrance, not synthetic, to avoid potential inflammation or irritation.
3. Choose a skin care routine with gentle, yet effective ingredients. Our Intense Hydration Face Cream deeply moisturizes and soothes skin while delivering natural age-defense.
4. Spring and summer's hot, humid weather can exasperate inflammation and redness.  Our Color Correcting Primer contains Aloe and Chamomile to help soothe the skin while naturally camouflaging mineral pigments help conceal unwanted redness.
5. Dry, cold winter weather can irritate dry or sensitive skin.  Wear a moisturizing, broad-spectrum mineral SPF and keep an all day moisturizer nearby. Our Mineral SPF 40 Moisturizer is packed with nourishing Shea Butter and Iron wrinkle defense.

Oily Skin
You may have a shiny complexion; enlarged pores; or be prone to blackheads and blemishes.
General Skin Care Rules for Oily Skin
1. Oily skin still needs moisture. Over-drying the skin will signal it to produce more oil. Our SPF 15 Oil-Free Moisturizer provides oil-free hydration while reducing excess shine.
2. Exfoliate regularly to remove excess cells that build up on the skin.
3. Harsh ingredients can strip the skin, causing it to kick into overdrive and become oilier. Our Purifying Gel Cleanser contains clarifying Mineral Clay to gently dissolve dirt and impurities leaving skin balanced and refreshed.
4. Spring and summer's hot, humid weather can cause skin's oil production levels to rise. Keep skin moisturized while absorbing excess oil.  At night, apply Mattifying Primer - Kaolin Clay helps absorb oil in the T-zone while Aloe soothes the skin.
5. Dry, cold winter weather may trigger skin to become dehydrated causing excess oil production to replace what is missing. Although you have oily skin, you still need to hydrate!

Combination Skin
You may have enlarged pores and breakouts in the T-zone (forehead, nose, and chin); oiliness in the T-zone; and/or dry and dull areas under the eyes and cheeks.
General Skin Care Rules for Combination Skin
1. Exfoliate once a week to remove excess oils that build up, especially in the T-zone.
2. Specific areas need special treatment.  With combination skin, eyes and cheeks are often drier than other areas of the face. A super nourishing eye cream helps plump the eye area and smooth fine lines, like our Revitalizing Eye Cream, while our Skin-Balancing Moisturizer is ideal for the forehead, chin, and nose where skin is oilier.
3. Spring and summer's hot humid weather can trigger an oiler t-zone, leaving it prone to shine and breakouts. Try our Blotting Tissues for touch ups throughout the day to reduce shine and excess oils.
4. Dry, cold winter weather can cause dehydration in the cheek and neck area while oilier areas tend to produce more oil, compensating for dehydration. Our Skin-Balancing Moisturizer provides the optimal balance of hydration and it contains a collagen-boosting peptide to help fight signs of aging.
Normal Skin
You may have a smooth skin surface with minimal signs of dryness or oiliness; no apparent sensitivity; and barely visible pores.
General Skin Care Rules for Normal Skin
1. Wear your broad-spectrum SPF. Even with "normal" skin you are still prone to sun damage. Our Mineral SPF 30 Brush-On Sun Defense brushes on with ease to protect skin form sun damage while Sea Kelp and White Tea provide antioxidant protection.
2. Prevention is key.  Our SPF 16 Age-Defying Treatment Serum, a wrinkle-defense serum, contains broad spectrum SPF and dual peptides, clinically-proven to boost collagen.
3. Exfoliate regularly to maintain a glowing complexion.
4. Spring and summer's hot, humid weather can lead what was once balanced, normal skin to combination skin. Keep up with the SPF during the long summer days and make sure to moisturize every night.
5. Dry, cold winter weather can cause normal skin to become dry.  Our Mineral SPF 40 Moisturizer is the ultimate age-defense cream combining pure, mineral broad spectrum SPF and a wrinkle-fighting peptide.