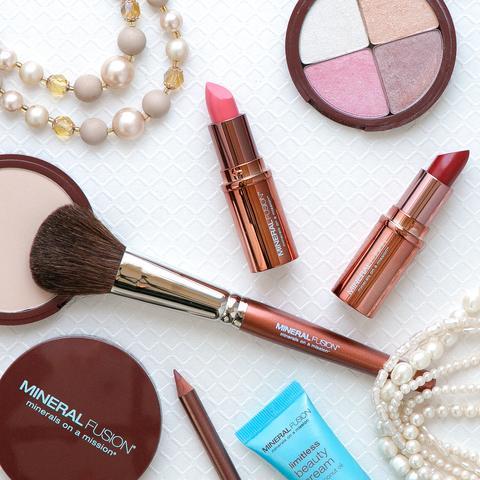 Kiss 2017 goodbye and say hello to 2018 with a fabulous matte lipstick look (plus a hint of shimmer)!
Steps for NYE Matte Lipstick Look
Step 1: Exfoliate.
You want to start with a nice smooth canvas for lipstick application. Chapped, flakey lips can make the best lipstick look disastrous. Try softly massaging your lips with a toothbrush or damp cloth at night, removing any dead skin that might flake. Follow up with Limitless Beauty Cream to moisturize overnight.
Step 2: Line.
Choose a shade that is either closest to your natural lip color or closest to your lipstick shade (but never darker). Try Elegant Lip Pencil a great neutral pink that works for most skin tones. Start by lining the outer edges of your lips — this will prevent the lipstick from feathering or bleeding into the creases around your lips. Continue to fill in your lips with the pencil. This will help your lipstick actually stick to your lips.
Step 3: Apply.
Start at the Cupid's Bow and then the outer corners of yours lips, gradually filling them in. Go for a classic bold red with Flashy, or if a flirty pink is more your speed try Crush.
Step 4: Mattify.
Take a tissue and hold it up to your lips. Then take Mineral Fusion Setting Powder and using the Blush Brush lightly dust over the tissue. The setting powder will set the rich color of your lipstick creating a beautiful matte look perfect for that New Years smooch!
Step 5: Illuminate.
Take the Blush Brush and lightly dust Radiance Illuminating Powder on cheek and brow bones to add a subtle shimmer and illuminate your look!